Managing Magnus Choir Presets in Avid Sibelius
---
A: Avid Sibelius have a strange way to manage them, because seems always to show the default sound. The way to select the presets in version 5.1 is detailed below and a screenshot will display you the steps marked with red circles.
In the example, we have selected the preset #11 called "Choralis":


Steps:
Sound set: none

Send program change: click box

Program number: i.e. #11 Choralis

Click <Apply> button

The <prog No. box> must show "11"

Note: Apparently, changing from Sibelius "FXP" icon don't work properly with several instruments of the market. It's probably an issue that Sibelius must solve.
Steps (Marked in red in JPG screen capture)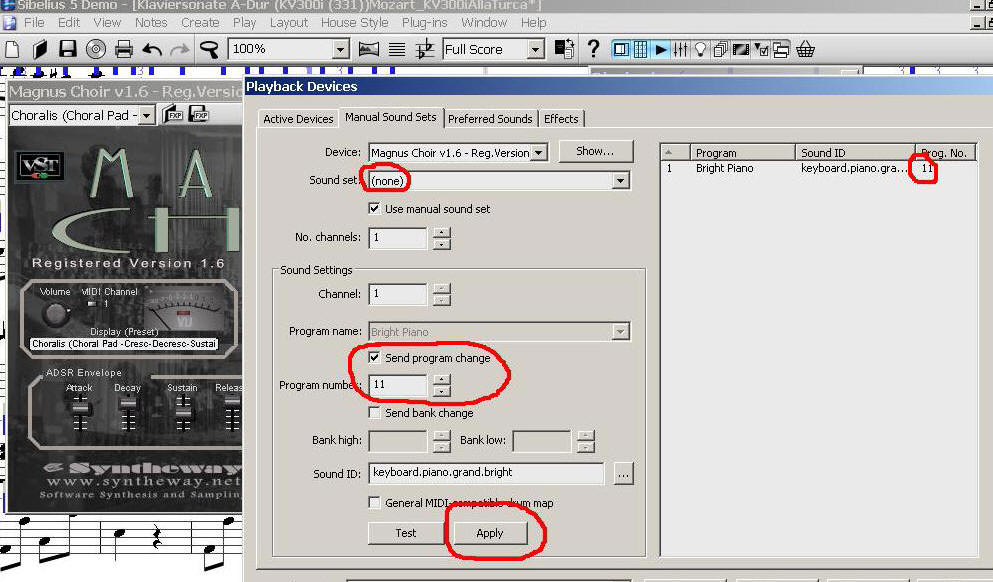 Also here you have a preset list for to reference each preset number (If you wish you can print or save as txt info for future reference):

0 Default
1 Celestial Choir (...In The Garden of Eden)
2 Aahs Choir (Sustained Vowels)
3 Octave Choir (Men's Choir )
4 Curious Choir (Odd)
5 Big Choral (Women's Choir and Men's Choir -Maestoso)
6 Angels Choir (Legato)
7 Magnus 1 (Sustained Vowels)
8 Oohs Choir (Sustained Vowels)
9 Synthetic Choir (Spatiotemporal)
10 X Choral (Relaxed Vowels)
11 Choralis (Choral Pad -Cresc-Decresc-Sustained)
12 Future Choir (Tenuto)
13 Magnus 2 (Espressivo - Maestoso)
14 Glorious (Maestoso - Majestic and Sustain)
15 Finale
16 Vox Vocis (Vocal Texture -Staccato)
17 Psychedelic Vox (Synthetic)
18 Breath Choir (Staccato)
19 Quasi Spatial Voices (Choir Pad)
20 Textural Murmur (Odd Choral)
21 Ad Infinitum (Tenuto Choir -Legato)
22 Infernus (Crescendo Dark Octave Choir)
23 Hybrid Choir (Marcato - Synthetic and Natural)
24 Astral Choir (Crescendo and Decrescendo)
25 Alienus (Marcato Odd Choir)
26 Caelestis (...Kingdom Of Heaven)
27 Psychomantium (...A Place Of Necromancy) -Tenuto-
28 Ad Libitum (Oohs + Aahs Chorus)
29 Aeternus Lux Lucis (Tenuto)
30 Divinitus Chorus (Staccato)
31 Mystical Choir (Mms Choir below Middle C)
32 The Apocalypse Has Begun (Crescendo)
33 Abbey Ghost (Synthetic Voices)
34 Aurum Vox (Choral Pad)
35 Lost Souls In The Dark (Atmos)
36 Guardians Of Limbo (Atmos)
37 Spectralys (Pad Noise -Cresc-Decresc-Sust)
38 Voices In The Mist (Fx)
39 Restless Spirits (Odd Wailing - Atmos)
40 Angels Between Us (Decay)
41 Eximius Choral Group (Womenís Choir and Menís Choir)
42 Padilius Fx (Pad)
43 Vinyl Choir (Womenís Choir and Menís Choir)
44 Escape To Paradise (Choir Pad)
45 Terrifying Voices (Fx)
46 Aeris Mortis (Decay)
47 Sanctus: Voices of Ascension (Holy Choir)