| | | |
| --- | --- | --- |
| | | |
| | | |
ElectriKeys Electric Piano
Fender Rhodes Mark I + Suitcase 73, Hohner Clavinet D6, Hohner Pianet N, Wurlitzer 200A + 210, Yamaha CP-70, RMI 368x Electra-Piano, Korg 01/W Dyno Piano + X5D ChorusClav, Roland XP-50 EP
Audio Unit, VST and VST3 Plugins for Mac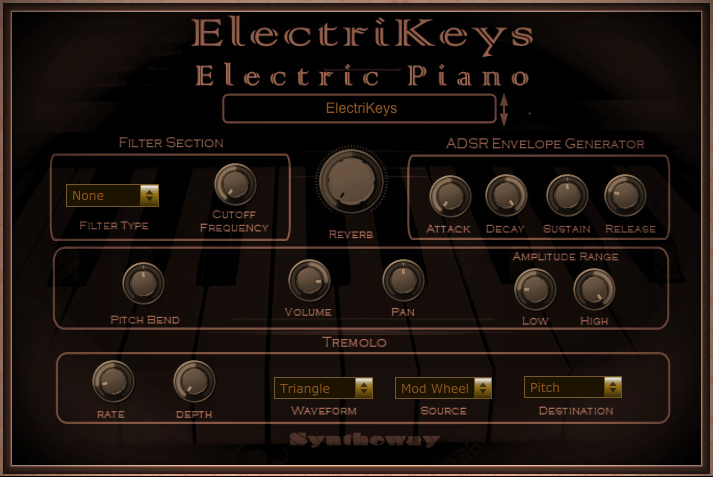 ---
ElectriKeys is an electric piano emulation based on vintage Fender Rhodes Mark I and Suitcase 73, Hohner Clavinet D6, Hohner Pianet N, Wurlitzer 200A and 210, Yamaha CP-70 and RMI 368x Electra-Piano models, as well as on workstation synthesizer presets from Roland XP-50 (EP), Korg 01/W (DynoPiano) and Korg X5D (ChorusClav). Available for macOS as plugin in Audio Unit (.component), VST (.vst) and VST3 (.vst3) formats.
Suitable for reproducing all kinds of electric piano sounds of the past and present in many genre of music, be it rock, jazz, jazz-funk, funk, R&B, soul, reggae, pop and even more with the convenience of software controls like ADSR envelope, filters, reverberation and a flexible LFO with switchable waveform and selectable modulation source to modulation destination.
The Audio Unit Component, VST and VST3 plug-ins requires of a MIDI Controller to play this virtual instrumentof and a compatible host, digital audio workstation (DAW) or MIDI sequencer that supports Audio Units and VST technology. They can be "plugged in" to process audio by applications such as Logic Pro, GarageBand, Cubase, Ableton Live, REAPER, Studio One Professional, Ardour, MainStage and Digital Performer among others.