Aeternus Brass
Audio Unit, VST and VST3 Plugins for Mac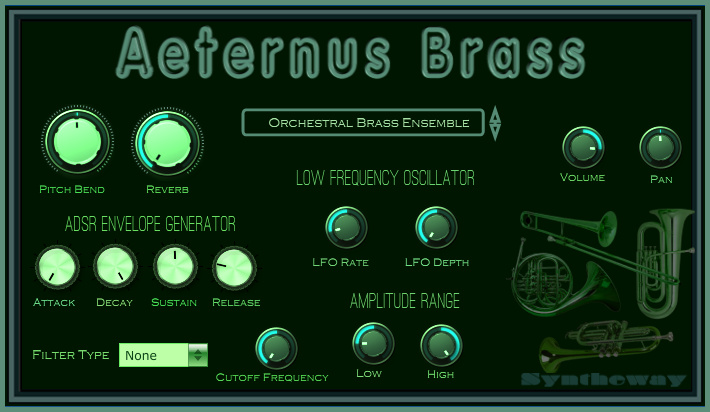 ---
Aeternus Brass is a virtual musical ensemble and solo trumpet, trombone, tuba, French horn, flugelhorn and cornet instruments. It includes brass sections, orchestral ensemble and sampled legato and staccato articulations. Additionally introduces four analog brasses, based on classic polyphonic synthesizers. Available for macOS as plugin in Audio Unit (.component), VST (.vst) and VST3 (.vst3) formats.
The Audio Unit Component, VST and VST3 plug-ins requires of a MIDI Controller to play this virtual instrumentof and a compatible host, digital audio workstation (DAW) or MIDI sequencer that supports Audio Units and VST technology. They can be "plugged in" to process audio by applications such as Logic Pro, GarageBand, Cubase, Ableton Live, REAPER, Studio One Professional, Ardour, MainStage and Digital Performer among others.
The software package is distributed via Internet in an Apple Disk Image DMG file and compatible with macOS and all previous OS X.
Please, test extensively the demo version of this product in your host to make sure there are no misbehaviors before purchasing.