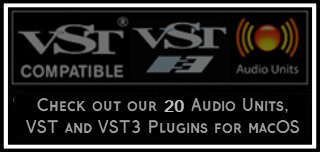 SM Pro Audio V-Machine VFX platform Importing Syntheway VST Plugins.
---
How to load a Syntheway VST Plug-in on V-Machine VFX software.
Make sure that you have installed the VFX software.

Place your DLL demo files (VST plug-ins) in a folder named i.e. "VST Plugins".

Open VFX app and right click on Menu => File => Import VST plugin...

Click on DLL VST Plugin box and select "Browse"

Choose your "VST Plugins folder" where you have placed the selected DLL Files.

Run the VFX application as shows the images below and check that the plugin is functioning correctly.

Note that a single DLL can be loaded without a Wizard File, since that it doesn't contains other files attached.
---
SM Pro Audio V-MACHINE VFX importing Syntheway VST Plugins (Click on each image to enlarge)
1. Importing VST Plugin On VFX
.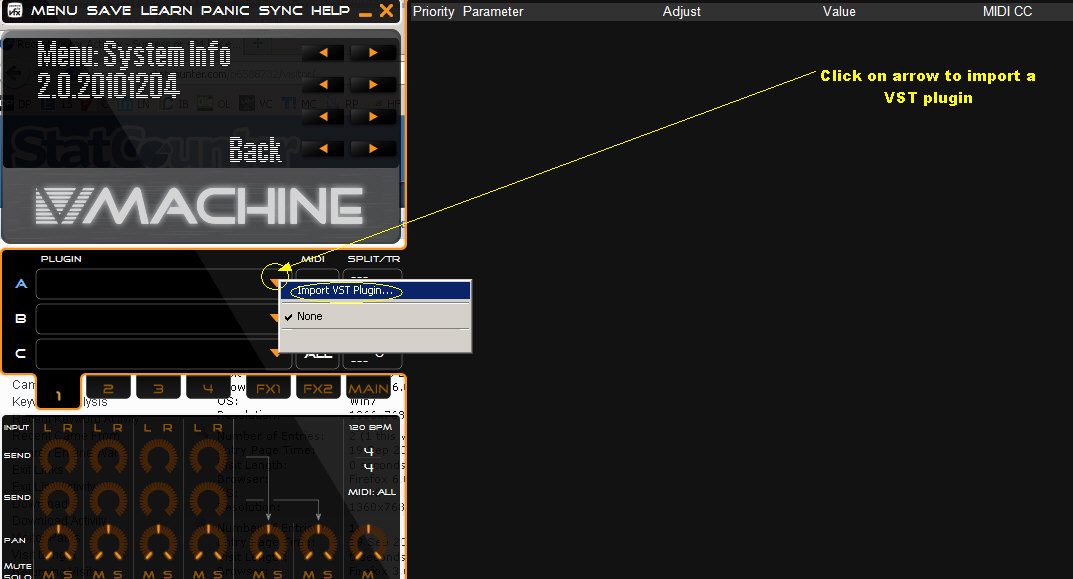 2. Browse File VST Plugin DLL On VFX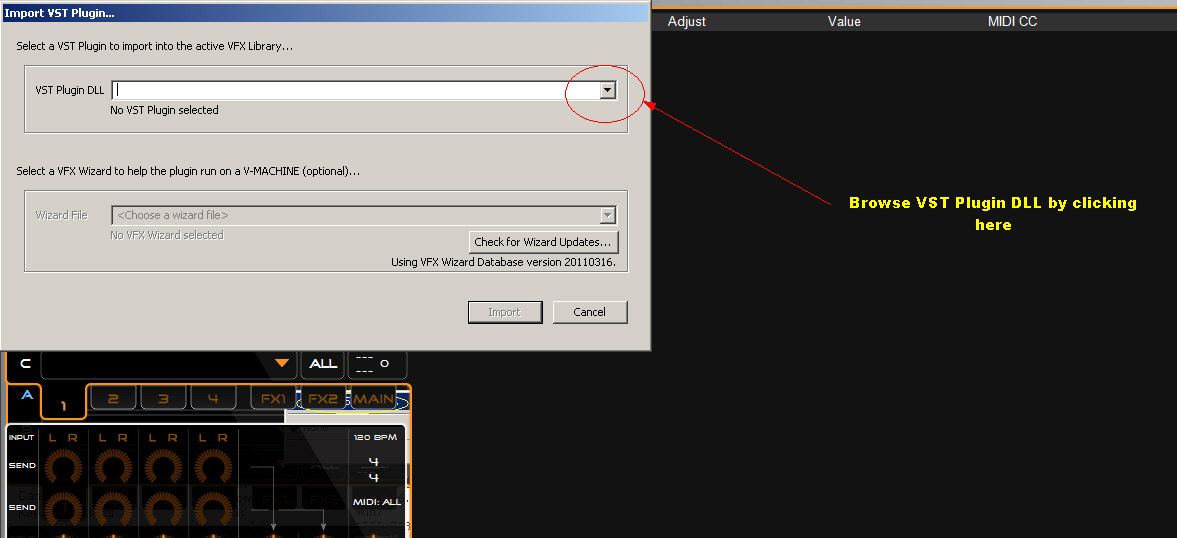 3. Selecting Magnus Choir VSTi Plugin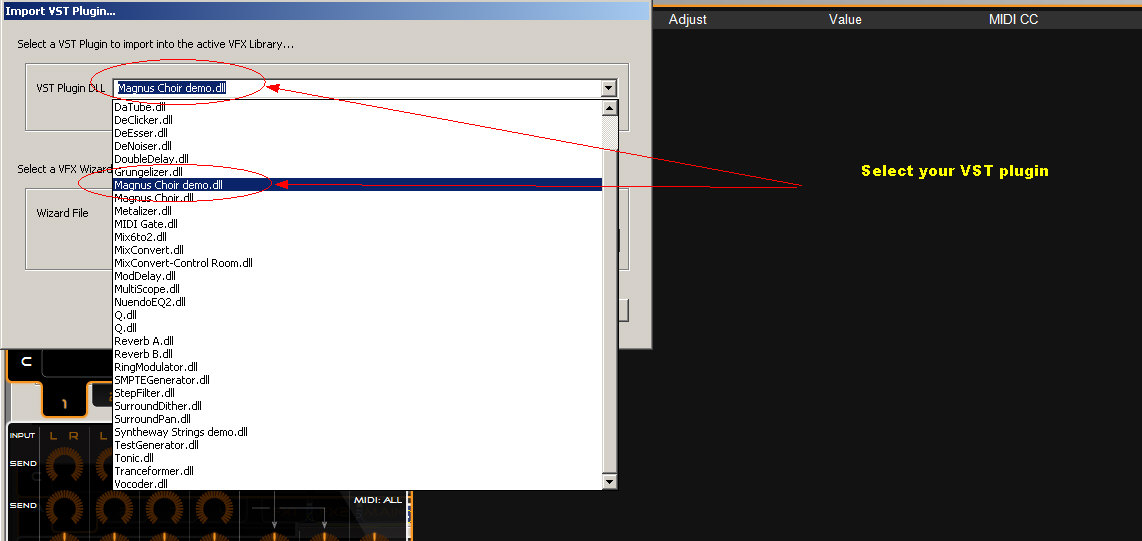 4. Do Not Use A Wizard File Option For Magnus Choir VSTi (No VFX Wizard Selected)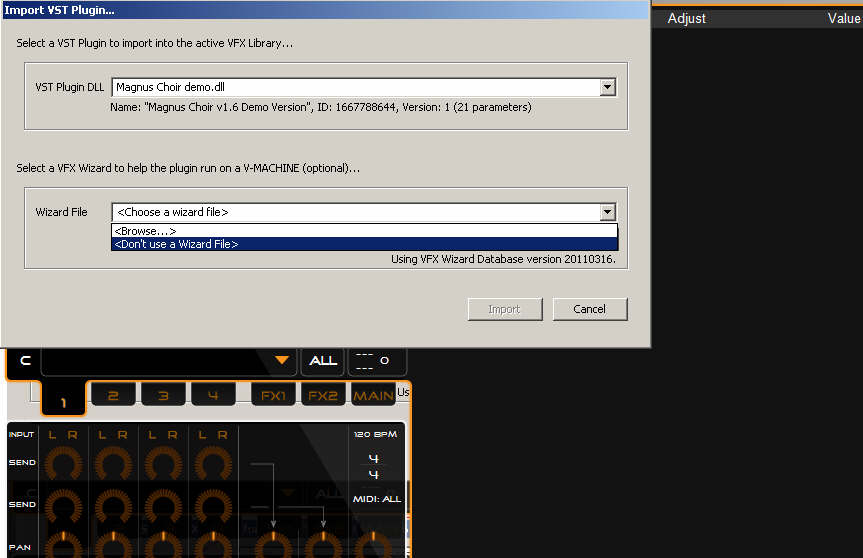 5. Magnus Choir Has Been Imported Without Using A Wizard File.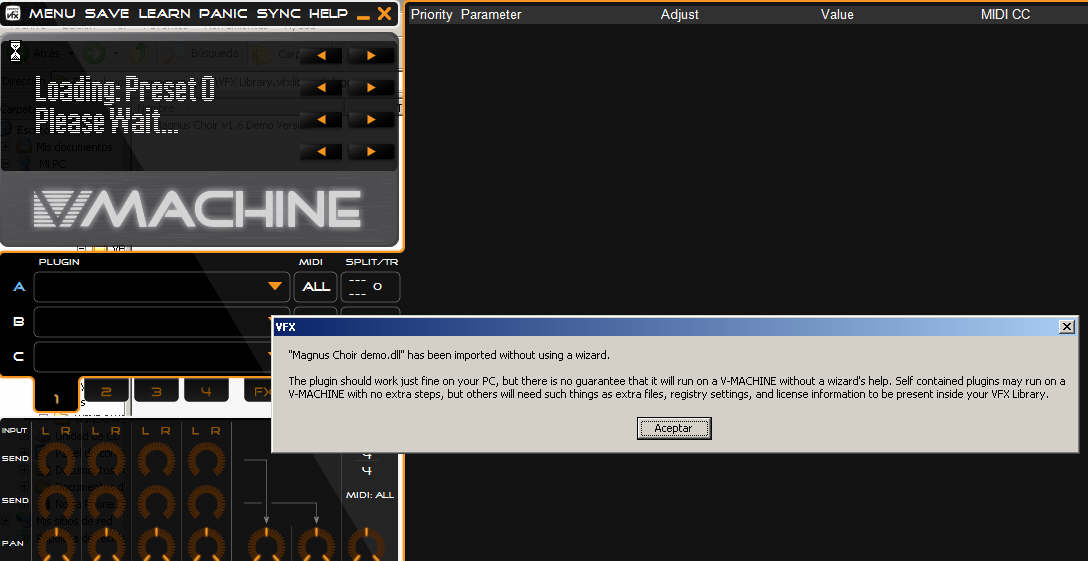 6. Magnus Choir VST Plugin Imported Successfully On VFX Message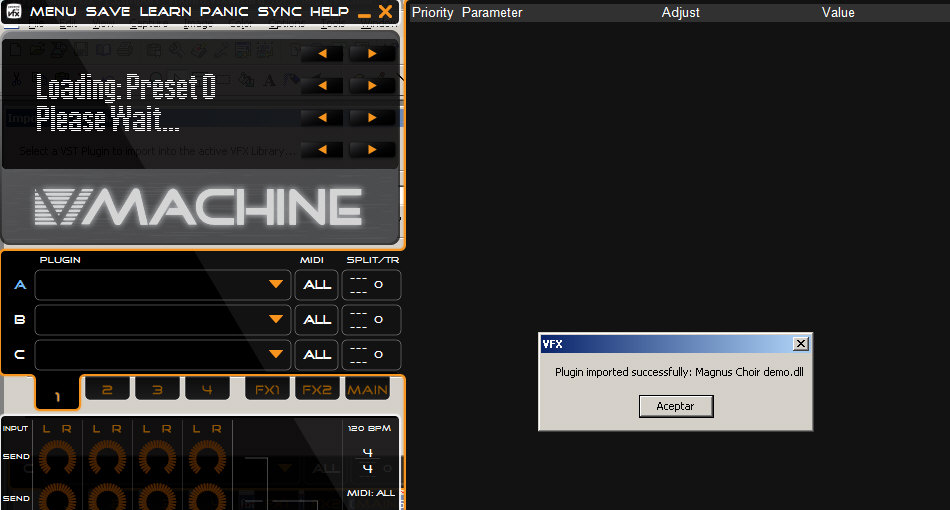 7. Loading Magnus Choir VSTi from Plugin Box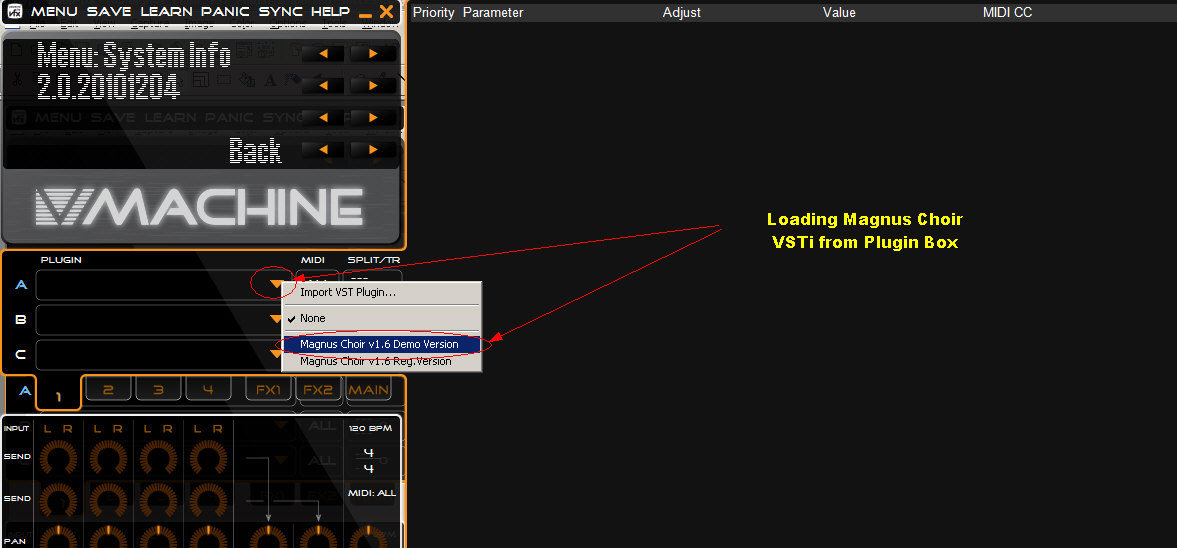 8. Magnus Choir VSTi Loaded On VFX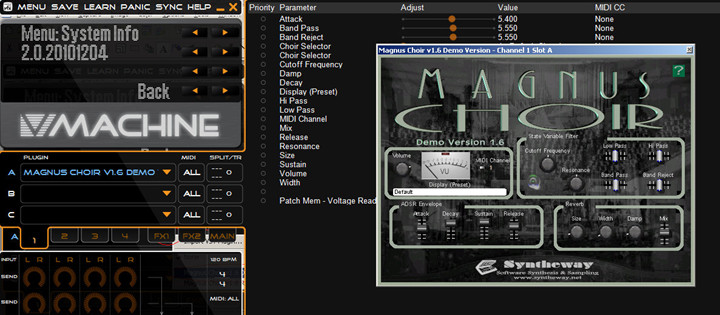 9. Magnus Choir VSTi Choir Selector On VFX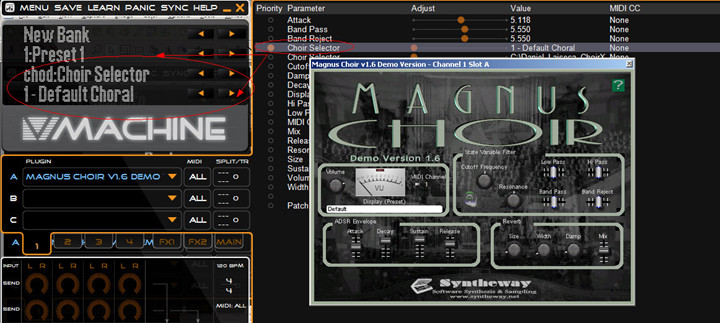 Note: A single DLL can be loaded without a Wizard File, since that it doesn't contains other files attached.
...You Might Also Like
Magnus Choir for Mac OS X: Has been adapted as Sampler with internal
Sample Library made specially for Mac users in order to use it as .component (Audio Unit) and / or .vst format (Cubase for Mac). Compiled in Universal Binary format, compatible on Intel-manufactured IA-32 or Intel 64-based Macintosh computers. (Mac OS X 10.6 or later).
Magnus Choir also is available in NKI Sample Library version made

specially for Mac users in order to use it on Native Instruments Kontakt. It has been meticulously tuned and adjusted and particular care has been taken in the reproduction of the original realism of Magnus Choir.
Magnus Choir also is available as EXS24 mkII is a Sample Library
version, made specially for Mac users in order to use it on Logic EXS24 and EXSP24 Samplers. If you use Logic 5.5 or above, your EXS is automatically changed to the EXS mk II.
---
VFX Host Software

The SM Pro Audio V-Machine ships with a control configuration software compatible with Windows and Mac OS X and Linux (future support). Users can load up their favorite VST/VSTi plugins* on their computer for auditioning, sound-set creation, and bank/preset memory assignment prior to transferring to one of the V-products for stand-alone use. Simple intuitive software makes sound and effect creation a breeze. Transferring your plugins to the V-Machine, couldn't be easier: A USB transfer to the hardware units (via USB cable, USB stick, or USB harddrive) takes care of all required user data, memories, and of course plugin transfer. Once in the main unit... you have freed your plugins from the computer and have instant immediate access to your instrument and effect sound creations on a dedicated hardware unit.
The V-Machine has banks, presets and channels. In each bank you run presets and within one preset you can have up to four channels and up to two fx channels. Each channel can load up to three plug ins and each fx channels also has three plugin slots. Even the master channel can hold up to three plugins so you can run up to 21 plugins in each preset! With a mouse click you can switch to the controller mode, where you can assign all parameters of the plugin/s.
Now you can play a lot of your favorite Windows plugins* on Mac!
V-Machine: Hardware VST PlugIn Player
Free your virtual instruments and effects!

• Live on stage: Play your VST plugins like real hardware

• In the studio: Save CPU power of your computer

• For DJ's: Spice up your mixes with unique effects
The V-Machine is a compact VST/VSTi hardware playback module built for performance keyboard players and DJ's.
It is one little beast that can't be underestimated once loaded up with your favorite VST instrument* and effect plugins*. Take your plugins on the road or into the studio and access them live without a computer. Multiple plugins can be pre-loaded into bank/preset memories for immediate access. Combine VST and VSTi plugins into chains, splits, and layers to create extremely rich and unique sounds. Full external MIDI controller support allows users access to available loaded plugin parameter controls such as virtual dials, switches, and faders.
V-Machine – unlimited possibilities for keyboarder and DJ's!
The V-Machine runs on the Powered by VFX platform developed by VFX Systems Pty Ltd, Melbourne Australia.

The Powered by VFX platform is a software framework designed to provide robust audio media support in embedded devices. Built on a modern operating system core, the Powered by VFX platform is a dedicated lightweight solution offering extremely low overheads in comparison to traditional computer based solutions. The result is a robust powerful platform well suited for the high performance requirements of low latency audio hardware devices. Built in support for leading audio processing technologies such as Steinberg's renowned VST (Virtual Studio Technology) plug-in format means dedicated hardware units can take advantage of the benefits of computer audio plug-in technology.

Many VST plugins only require a VST format .dll file as our Plug-ins. This is fine for many installations. Other plugins are much more detailed and require additional supporting files such as samples, Windows registry entries, preset files, etc.

The VFX Application only knows how to install these more detailed plugins via a plugin information wizard file (vfxinfo.txt). Each plugin information wizard file provides information to the V-Machine such as what files to transfer during synchronization to the V-Machine.
How to delete banks, Presets and/or plugins off the V-Machine
You must have firmware version 20101026 or higher to see these menu options.
To delete a bank or preset....
On the V-Machine select the bank/preset you want to delete. Press both menu buttons to enter menu, then scroll to the right until you see Menu: Delete then press the right hand SAVE button to change the second line on the LCD to 'Bank'. If this is what you want to do, then press the button next to the word delete on the V-Machine screen. Pressing the button next to the word BACK on the screen will exit back to the bank leaving it unchanged.
To delete a plugin...
Press both menu buttons to enter the menu. Press the right hand MENU button until you see 'menu: delete plugin' the plugin that will be deleted will be named below on the second line of the LCD. You can scroll through the plugins to delete with the left and right SAVE buttons.
When your on the plugin you wish to delete, press the LEARN button next to delete and the plugin will be deleted. Pressing the button next to BACK will exit without deleting any plugins.
Mac Topics That May Interest You:
How to install Magnus Choir on Mac Is Magnus Choir available for Mac?
Magnus Choir Sampler & Library Audio Unit + VST for Mac Magnus Choir NKI Kontakt Library
Magnus Choir Apple Logic EXS24 mkII Sample Library
VST & Audio Units Plug-ins in Mac OS X SM Pro Audio VFX Software for Intel Mac OS X
How to setup Garage Band, Sound-flower, IAC, VFX Apple's Boot Camp
Microsoft Windows 7 and Apple Boot Camp Intel Mac v3.1
OS X Mountain Lion and Boot Camp Software
SoundFlower Configuration GarageBand Aggregate Device
IAC (Inter-Application Communication) Bus Audacity VST Enabler
WACVST (Windows-Mac VST) VSTAU Manager (VST to AU Adapter)
How To Use Soundflower How to capture audio with Soundflower
Custom Search
VST is a trademark of Steinberg Soft- und Hardware GmbH
Mac™ is a trademark of Apple Inc., registered in the U.S. and other countries.
Mac OS X is a trademark of Apple Inc.
Audio Units™ is a trademark of Apple Inc.