Banjodoline Virtual Banjo and Mandolin KONTAKT Sample Library
---
for Native Instruments KONTAKT, Ableton Sampler, HALion, MachFive, DirectWave Player and Presence XT Sampler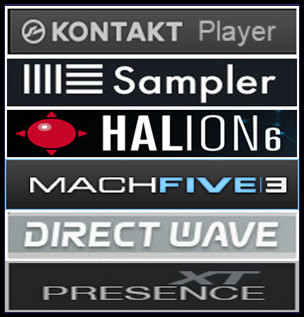 ---
Banjodoline KONTAKT is a virtual Banjo & Mandolin sample library including a Banjolin, Octave Mandolin and Electric Mandolin fretted stringed instruments.
Native Instruments KONTAKT full version v2.0 or above (Windows and macOS). The Free Kontakt Player only will load this Library for 15 minutes in demo mode. Also is compatible with Ableton Sampler (Live Suite only, not Intro or Standard), Presence XT Sampler (PreSonus Studio One 3 Professional), Steinberg HALion and MOTU MachFive on Windows and macOS as well as in Image-Line DirectWave Player for Windows.

It has been meticulously tuned and adjusted and particular care has been taken in the reproduction of the original realism of Banjodoline.
For existing registered users of any Banjodoline Virtual Banjo and Mandolin format, you can order

using a special Crossgrade order page located here.
---
KONTAKT Instrument List (.nki + .wav)
| | |
| --- | --- |
| 1 | Mandolin |
| 2 | Mandolin Tremolo (Tremolo Picking) |
| 3 | Octave Mandolin |
| 4 | Tremolo Octave Mandolin |
| 5 | Banjo |
| 6 | Banjolin |
| 7 | Electric Mandolin |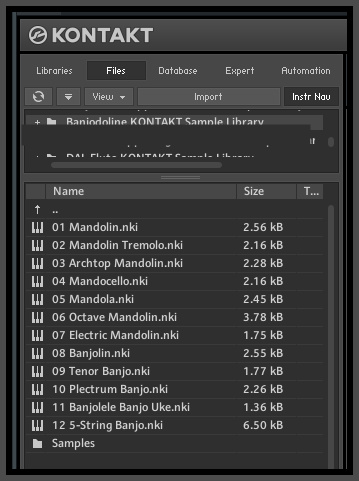 ---

Buy Banjodoline Virtual Banjo and Mandolin NKI for Kontakt online through PayPal

Secure PayPal Payment Services
All payments are handled securely online through PayPal. You'll be protected with PayPal's Buyer Protection so you know your order will be safe and secure.

Please check to make sure you are using a valid PayPal email address before ordering, because after your purchase and usually in less than 24 hours, we will send to your assigned email address a link in order to download the registered version of your selected software and a password to unlock the file.

Price: USD 29,50 via PayPal

To Buy, click "Add to Cart" button:
---
Installation Notes:
After received the product and once extracted the zip file, the folder contains the Apple Logic EXS24 MkII files with their respective wav samples, and a couple of PDFs with License and information.

The location where samples are stored in Logic is:
Macintosh HD> Library> Application Support> Logic> Sampler Instruments.

Also you can install the library anywhere else on your hard drive and place a shortcut in this folder. The EXS24 MkII instruments will show up in Logic EXS24 after a lauching the program.
---
Audio Units™ is a trademark of Apple Inc.

DirectWave Player™ is a trademark of Image-Line

Live™ and Sampler™ are trademarks of

Ableton AG

Logic Pro® and EXS24™ are trademarks of Apple Inc.

Kontakt™ is a trademark of Native Instruments GmbH
VST is a trademark of Steinberg Soft- und Hardware GmbH
HALion™ is a trademark of Steinberg Soft- und Hardware GmbH
GarageBand® and AUSampler™ are registered trademarks of Apple Inc.
Studio One™ and Presence XT™ are trademarks of PreSonus Audio Electronics, Inc.
Mac®, macOS®, OS X® are a trademark of Apple Inc., registered in the U.S. and other countries.
Windows 7™, Windows 8™, Windows 10™ are either a registered trademark or a trademark of Microsoft Corporation in the United States and/or other countries.
---